7 Wineries You Should Visit in Healdsburg
The city of Healdsburg has quickly become a go-to destination for wine country tourism and we completely see why.  Small town vibes with phenomenal food, charming housing, top level services/hotels and a world of wine at your fingertips.  It's centralized between multiple wine regions but most notably: Alexander Valley, Dry Creek Valley and Russian River Valley offering a wide range of varieties to taste and gorgeous roads to explore.  With so many wineries in the area, how do you pick just one?  Well, you don't 😉  We know it can be overwhelming and although there is no wrong choice, we've put together a list of wineries we think will be sure to wow you on  your next wine tasting excursions.
Limerick Lane Cellars | Russian River Valley, Focus varieties: Zinfandel and Syrah. 
Tucked down an old town road, you'll find Limerick Lane.  You'll walk in and instantly feel like you're home.  With the most wholesome staff greeting you with ear to ear smiles (through those masks or not), you won't spend more than 5 second wondering if you are in the right spot.  You've made it to exactly where you need/want to be.  If you have the time to spend, their vineyard tastings will take your breath away. Surrounded by their historical old vineyard, with sweeping views of hills and the valleys, it will no doubt make your Instagram-worthy pictures  and will make your top favorite wineries you've visited on your trip.
1023 Limerick Lane, Healdsburg CA 95448
Wren Hop | Russian River Valley, Windsor (almost Healdsburg), Focus varieties: Chardonnay and Pinot Noir.
We are going to let this one slide in because if you breathe too heavy, you'll be in Healdsburg's limits.  Although this one technically sits in Windsor, we still love it.  If you are looking for an exclusive, private, quiet tasting with a beautiful, quant, tasting room and a one of a kind experience, Wren Hop is for you.  Nestled up on a hilltop in Russian River Valley, their "tasting room" is small but elegant. No bars to belly up to, you'll sit at a large table centered in a room feeling like Restoration Hardware making yourself right at home.  It is one of those tastings you don't forget and think you found the ultimate hiding spot. OH wait, there's more! Let's talk wine, their Pinots and Chardonnays are arguably competitive with some of those long-wait-list wineries you can't even score a bottle of.
3701 Mark West Station Road, Windsor, CA 95492
Jordan Vineyard & Winery | Alexander Valley, Focus varietal: Cabernet Sauvignon.
With drop-dead gorgeous landscaping and buildings which make you feel you've jumped continents, Jordan Winery is at the top of the list for experience and wines.  If you have time, the food and wine pairings are well worth it and the drive through Alexander Valley might just convince you to sell your home and move to Healdsburg.
1474 Alexander Valley Road, Healdsburg, CA 95448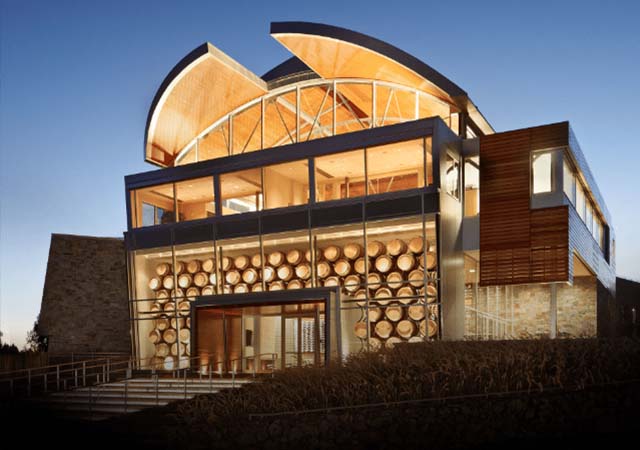 Williams Selyem Winery | Russian River Valley, Focus varietals: Chardonnay, Pinot Noir, Zinfandel.
Barrels on top of barrel on top barrels with crystal clear glass as the entrance to this spectacular Pinot, Chardonnay and Zinfandel producer Williams Selyem.  Their wines are delectable and the grounds are a perfect balance between modern elegance and feeling connected with the land.
7227 Westside Road, Healdsburg, CA 95448
Lambert Bridge | Dry Creek Valley, Focus varietals: Bordeaux varietals.
This is one of those wineries that I'm not sure if the indoors or outdoors are more beautiful.  It's a year round pick for that reason.  If you are here during the spring/summer then picnic tables with stunning landscape and views of Dry Creek Valley will entice you.  However, if your trip is planned for winter/fall and the weather is too chilly, the inside tasting experience might just top the outdoors.  With comfy couches, in an old Redwood barrel room, accompanied by an artisan cheese platter will surely take your mind off of any cold weather or a good place to escape the heat of the summer days.
4085 West Dry Creek Road, Healdsburg, CA 95448
Papapietro Perry Winery | Dry Creek Winery, Focus varietal: Pinot Noir.
If you love Pinot Noir, you'll want to venture out of the Russian River Valley and make your way down Dry Creek Valley Road to Papapietro Petty. With a large patio looking out over the valley, you'll be sure to relax into your seat to sip and taste a lineup of pinots.
4791 Dry Creek Road, Healdsburg, CA 95448
J Winery | Russian River Valley, Focus varietal: Sparkling Wine
Whether you start your day, end your day or take a break in the middle… There is absolutely no wrong time to stop at J Winery for some bubbles.  With multiple tasting options (bar, food and wine pairings, outdoor, bubble lounge) there is an option for you.  I might be biased, I'm a big sparkling wine fan, but I love the idea of adding sparkling wine to a day of tasting still wines.  It brightens your palate, switches things up and who is ever unhappy drinking bubbly wine.  If you are not a sparkling wine fan, you'll find whites, reds and rosés available and just as tasty.
11447 Old Redwood Highway, Healdsburg, CA 95448
There's endless possibilities and configurations of wineries to plan.  We know your day of tastings will be magical no matter what you choose.  Our hope is this list helps guide you and lurers you to Healdsburg, a small town with a big punch of wine country we cherish and know you will too.